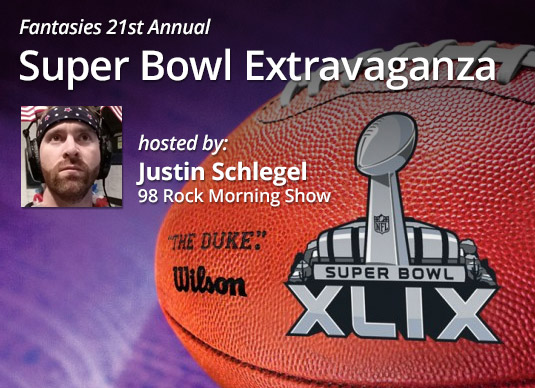 Fantasies 21st Annual
Super Bowl Extravaganza
Sunday, February 1st
Featuring Appearances by
Exotic Entertainer of the Year Christina Aguchi & Justin from the 98 Rock Morning Show
Tickets are on sale now for $20. This event always sells out, so make sure to get your tickets now! Our amazing buffet will include the following:
Full array of snacks – chips, pretzels, nuts, salsa, dips, etc.
Appetizers & Hot Hors D'Oeuvres – bacon wrapped hot dog bites, buffalo chicken toast and more
Entree's – Fresh Baked Brown Sugar Ham, Oven Roasted Chicken, Homemade Jambalaya
Sides – Garlic Mashed Potatoes, Green Bean Casserole, Salad, Fresh Rolls
Desserts – Fresh Baked Chocolate Cookies, Homemade Apple Pie, Cake
Showtimes for Christina Aguchi appearances are 5:30pm & 10:30pm
Adult Filmstar & Exotic Dancer of the Year
Christina Aguchi
February 1st, 2nd & 3rd
Sunday, Monday & Tuesday
Fantasies Nightclub is bringing you the Exotic Dancer of the Year for 2014, Christina Aguchi! She is sure to create a huge spectacle on the brand new stage so you don't want to miss out on this performance.
Other Feature Dancers Coming Soon